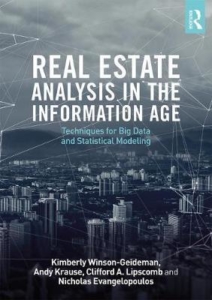 Over the past decade the availability of data in the real estate industry has increased markedly.  So much so, that analysts are often now confronted with too much data, not too little.  Today's key tasks revolve around properly managing, preparing, cleaning, analyzing and visualizing real estate information.
For many analysts, especially those in the real estate industry, the overload of data can be intimidating.  Pouring through and parsing out the relevant information can be both daunting and time-consuming.  Similarly, the myriad new tools, data sources, acronyms and methods that are being developed every year can be disorienting, even to seasoned analysts.   The process of approaching this ever-growing wealth of information in the real estate industry is the subject of our new book, "Real Estate Analysis in the Information Age: Techniques for Big Data and Statistical Modeling."
The book aims to provide analysts with the tools and understanding to efficiently and effectively delve into large amounts of data in a manner consistent with the goals of the project.  Included in the book is a step-by-step guide that leads readers through the completion of the presented case studies. Additionally, all data and code used in the book's example case studies are freely available for download on the book's website.
"Creating robust and reproducible analyses of real estate information is an issue that plagues academic researchers, consultants and big businesses," said Dr. Andy Krause, one of the book's authors. "We wrote this book to provide an overview of methods and process to help analysts from all backgrounds better leverage the new data and techniques that are evolving.  We hope that these lessons can be used across a wide range of applications in the real estate industry."
The book examines not only the use of Big Data and statistical methods but also guidelines on how to best manage, prepare, explore and clean data during the life of the research project. These intermediate steps are critical to the success of the project but are often overlooked by researchers when a project first begins.
"Real Estate Analysis in the Information Age: Techniques for Big Data and Statistical Modeling" is now available on Amazon.